Tag: slash and burn
by Chasing on Sep.08, 2011, under Quickies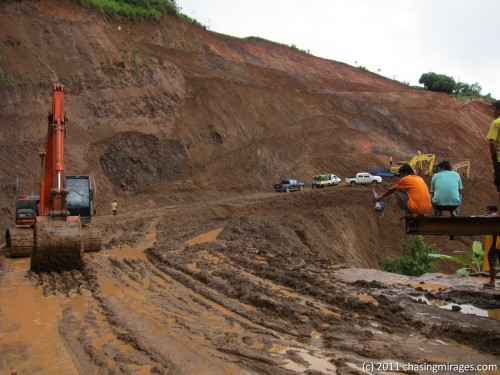 Today's post is dedicated to Stevie Nicks.
I'm in Laos! Today's trip from Phonsavan to Luang Prabang should have taken about 6 hours.  Instead, it took about 9.5 thanks to this huge landslide.  Though they're not all visible in this photo, there were 5 excavators working simultaneously to re-build the road.
If not for our driver having a friend on the other side of the landslide with whom he could exchange passengers, we would still be stuck there.  That road was in bad shape.  When we crossed the collapsed area by foot to reach the other van, I took one crazy step that ended with my entire lower leg submerged in mud.  Luckily, another passenger was there to help me pull out.  The ridiculous thing is, this happens often enough for them to have 5 excavators on hand.  There must be a more permanent and efficient solution.
I'm not sure if there's any connection, but the mountains along the highway show evidence of slash-and-burn agriculture.  You can see the huge bald spots (lighter green) all over the mountains in the picture below.  I was surprised to see crops growing on such steep slopes.  The resulting erosion may contribute to mudslides like this one.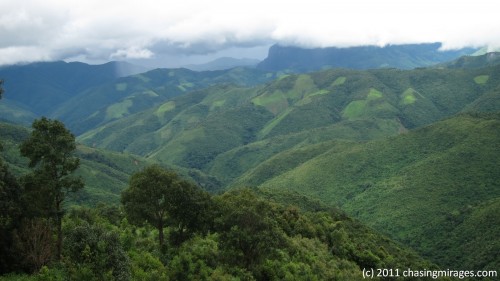 Leave a Comment
:erosion, landslide, laos, luang prabang, mudslide, phonsavan, slash and burn, swidden
more...
by Chasing on Aug.10, 2011, under Posts
As beautiful as it is, Kalaw is not without its environmental problems. The locals depend on agriculture for their livelihood, and sadly, farming practices here are far from sustainable.  As recently as 30 years ago, tigers could still be hunted in this area.  Now there are none left.  The remaining "Reserve Forest" has only been protected because an important water reservoir is located within it.  This tiny patch of protected forest covers less than a single mountaintop, not enough land area to support even one large predator.
1 Comment
:agave, agriculture, burma, genetically modified, invasive species, kalaw, myanmar, pesticides, rural electrification, slash and burn, solar energy, solar power, tequila
more...