Tag: jinghong
by Chasing on Feb.22, 2012, under Posts
As you may have heard, housing prices in China have exploded over the last few years.  Why someone would pay over $500USD per square foot (the price for a mid-range condo not located TOO far from downtown) for a 70-year lease (private land ownership does not exist in China) in crowded, polluted Beijing when a townhouse in California's wine country can be had for just over $100USD per square foot is beyond me.  Or, if you want to spend the money, check out this beauty in San Francisco's Mission District for $570 per square foot.
Leave a Comment
:botanical gardens, china, dai, jinghong, mekong, pomelo, real estate, street food, yunnan
more...
by Chasing on Sep.24, 2011, under Quickies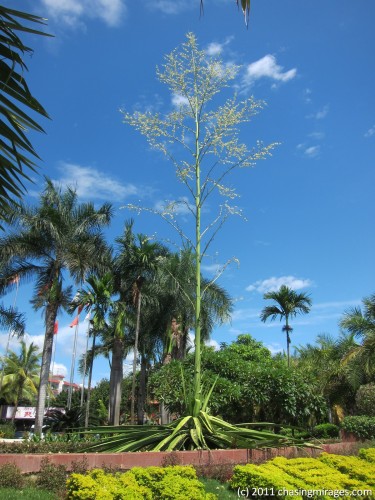 Technically, it's called an inflorescence.  This one is by far the biggest I've seen, and I've seen a lot of agave penises in recent months.  I estimate this one is 40-50 feet tall.
I'm now in Jinghong, the largest city in Sipsongpanna, a minority-majority autonomous area in China's Yunnan province.  It is one of the most beautiful cities I've seen in China. Every major street is lined on both sides with towering tropical trees that shade the sidewalks, and most of the buildings, street lamps and even billboards feature artistic flourishes inspired by the traditional architecture of the Dai ethnic group, giving the entire city a unique and exotic air.
The people are also warm and friendly, a nice departure from most Han-dominated Chinese cities.
Keep tuned for more posts from Malaysia and Laos!
Leave a Comment
:agave, invasive species, jinghong, non-native species, sipsongpanna, xishuangbanna, yunnan
more...