by Chasing on Jan.02, 2014, under Posts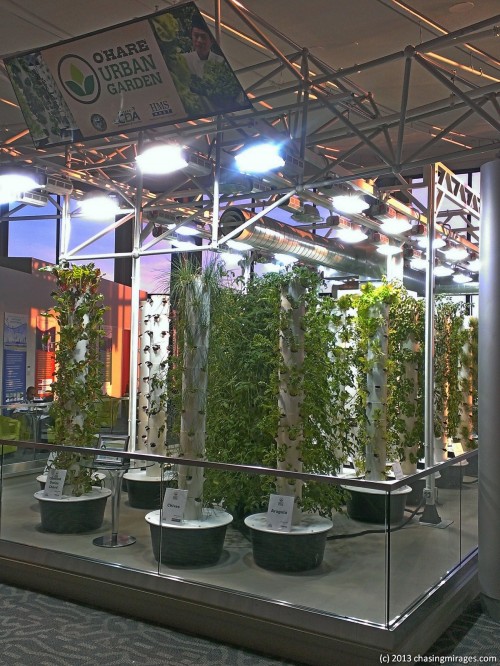 I was in O'Hare airport for a layover a couple of days ago and a sign for "O'Hare Urban Garden" caught my eye.  On a mezzanine, sandwiched between a USO Lounge and a Yoga Room, was the "Urban Garden" – a blatant greenwashing failure.
Not only was this garden located in a non-urban setting,  it could hardly be called a "garden."  Its vegetables were completely dependent on high consumption artificial lights as well as barrels (blue, visible in the background of the picture below) of agricultural chemicals pumped through plastic planter columns.
The designers of this monstrosity, out of ignorance or a twisted sense of irony, chose to eviscerate the most important benefits of urban gardening.  Efficient use of resources?  The exact opposite.  Minimizing chemical inputs?  No.  Increasing healthy food access, leisure activity and social interaction for inner city communities?  Not even remotely possible.
:airport, chicago, community garden, greenwashing, o'hare, urban farming, urban garden