by Chasing on Dec.01, 2013, under Posts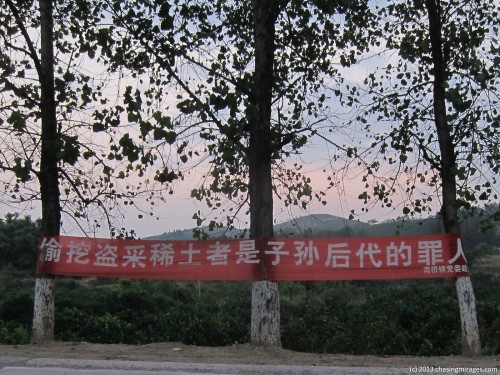 Ganzhou (贛州) in southern Jiangxi (江西) is known as "The Kingdom of Rare Earth".  It is also a place where the government has tried to cut production and curb illegal mining in recent years.  A useful rule in China is that you can tell what the most pressing issues are in any locality by looking at Communist party slogans.  The one in the picture above reads (approximately) "Illegal rare earth miners are destroyers of our children's future".  Another one, of which I was unable to take a picture, read "Illegal rare earth mining will result in immediate torching of all excavation equipment."
Our first morning in Ganzhou, we drove up to a mountaintop mine that had been repurposed into a landfill.
Unlike the artisanal mines we saw in northern Guangdong,  this was large-scale and had some formal facilities.
Although this mine was officially closed down, we saw some signs of activity.
What we saw next in Wenfeng, Shipai Village (文峰,石排村)was on yet another scale – tens of square kilometers, previously forested hills, had been transformed into an eroded, unearthly wasteland.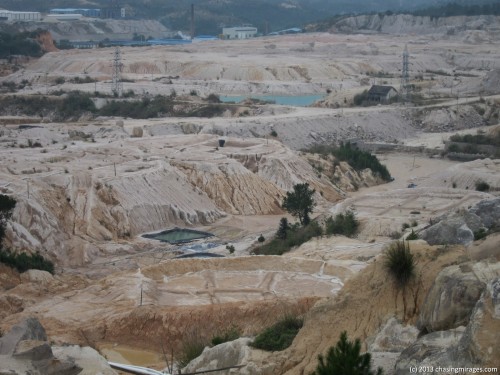 These are landscapes created by poor planning, greed, and consumption.  Our demand for cheap electronics and "clean" energy is the latest driver of misery in our long history of trading the lives and environment of people in faraway places for our material comfort and convenience.
What can be done with this hell on earth?  The soil and water are toxic.  If left alone, these toxins will diffuse into nearby environments and the biosphere-at-large.  Far more money will need to be spent rehabilitating this area than was earned by plundering it.  But the plunderers long ago sent their booty into overseas investments, leaving the unprivileged masses to wallow in a noxious stew.  This same pattern has repeated itself countless times, at scales large and small, in China and other developing countries around the world.  It appears that capitalists are often the greatest looters of all.  Would Ayn Rand see the irony?
:dongjiang, jiangxi, mining, rare earth metals