by Chasing on Aug.27, 2011, under Posts
Note: if you are inspired to visit Bagan, check out this practical guide to aid your planning.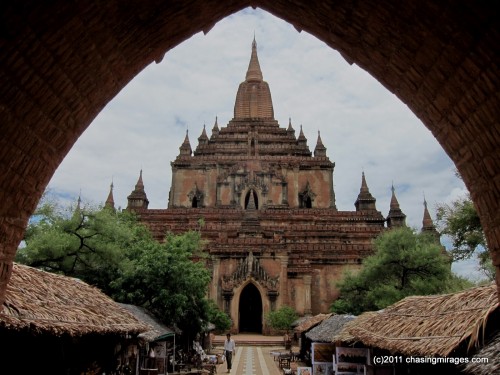 It's been said millions of times – Bagan is incredible.  Let me say it again: Bagan is fucking incredible.  If you're into Buddhism, Indiana Jones, architecture, art, history, or any combination of these, then you'll agree with me, I guarantee it.
For much of the 2.5 days that I spent in Bagan, I was literally breathless.  Granted,  some of my oxygen shortage resulted from being on the brink of heatstroke, but most of it was attributable to pure awe.
I mentioned earlier that you should visit Inle Lake for its people, and Bagan for its history.  Here goes.
Bagan sits on the eastern bank of the Irrawaddy River in central Myanmar.  Though it was a thriving city as early as 850 AD, its golden age began around 1057 AD when King Anawrahta converted to Buddhism.  The great majority of Bagan's temples were built in the following 230 years or so.  Construction abruptly stopped and the city was abandoned around 1287 AD, when the Mongol hordes swept through.
Archaeologists estimate that as many as 5,000 temples once filled the plain.  Over 2,000 remain.  Unfortunately, a major earthquake in 1975 caused extensive damage to the temples and their frescoes, murals and statues.  As you'll see, however, there is still plenty left to amaze.
:archaeology, ayeyarwady, bagan, buddhism, burma, indiana jones, irrawaddy, myanmar