by Chasing on May.19, 2011, under Posts
This isn't a food porn site, nor will it ever be, but I couldn't resist posting this picture of a delicious coconut I had in Bukit Mertajam (大山腳), a city in Penang State, Malaysia.  Just look at that thick juicy, layer of smooth, wet coconut flesh.  My mouth waters just thinking about it.
I'm sure the fibrous shell will make good compost.
This post consists of a bunch of random pictures I took around BM (the
unfortunate abbreviation
for Bukit Mertajam) that are related to Malaysia's growing environmental movement.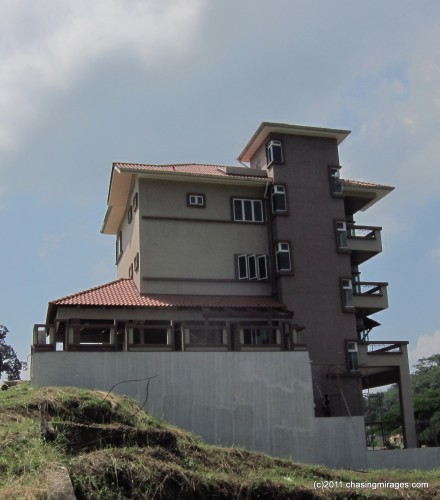 This is the first house in Penang State to take advantage of electricity net metering.  My generous hosts, mindful of my interest in environmental issues, took me to see this house which is currently being built by their friends.  Unfortunately, being a complete amateur, I didn't take more pictures, but I did take note of the resource-saving features that the owner/designer has included in the home:
– photovoltaic solar panels on the roof with a net metering system for selling excess power back to the electrical utility.
– collection of rainwater from roof surfaces and gutters.  A portion of collected rainwater goes to an emergency supply tank in the attic, and the remainder flows to an underground tank that provides water for watering the garden and washing cars.
– passively maximizing airflow.  There are two air columns that run the entire height of the house.  Windows have been placed in these columns to maximize horizontal and vertical airflow.  The house is designed to require no air conditioning, an amazing feat in this tropical climate.
Roof mounted solar water heaters.  These are not yet as common as they are in some 
Chinese cities
, but they seem to be gaining popularity, especially for newly constructed houses.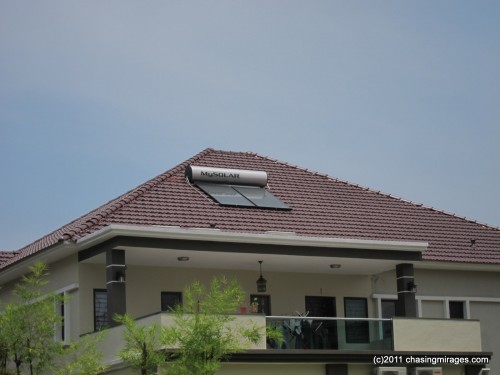 Gurney Drive is a sea-side area in Georgetown on Penang Island known for its huge hawker market (tons of food stalls) and wide sidewalk for hanging out and strolling.  It's nice to know that they're cleaning up the area.
The bin on the right is more or less a regular recycle bin for collecting paper, aluminum, and plastic.  But take a close look at the one on the left.  Paint collection? A good thought, but I wonder if anyone actually dumps their paint here.  Seems like it could get messy.
Finally, here's a form of resource reuse that I had never before seen or imagined.  Feces into clothing!  If factory dust never stopped you from wearing new clothes before washing them, maybe this will.
:food porn, malaysia, net metering, penang, recycling, reuse, solar photovoltaic, solar water heater