by Chasing on Apr.23, 2011, under Posts
April 13 was the New Year celebration for Thailand and Myanmar, also known as the Songkran Water Festival.  Unfortunately, I was in neither Thailand nor Myanmar on that day, but I did the best I could – I visited Thai and Myanmar Buddhist temples in Penang, Malaysia.
Here's an environmentally friendly reminder I noticed in the Thai temple: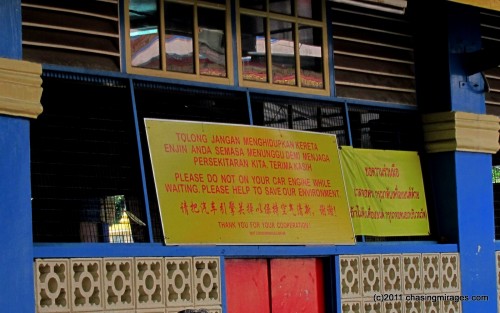 I now have a couple of additional data points about Myanmar, and here are my conclusions after an intense process of analysis and data crunching : 1) Lots of Burmese are Buddhist; and 2) Burmese love to party.
The picture below was taken inside the Myanmar Buddhist Temple. There were no less than 5 different performance stages where people were going bananas over Burmese pop and dance music.  I didn't take too many photos because there was a constant danger of getting completely soaked.  And I did get completely soaked.
Below is a video clip of more dancing.  I couldn't help but grin like an idiot while watching these people have the time of their lives.  HAPPY NEW YEAR!!!
:buddhism, malaysia, myanmar, penang, thailand